Resorts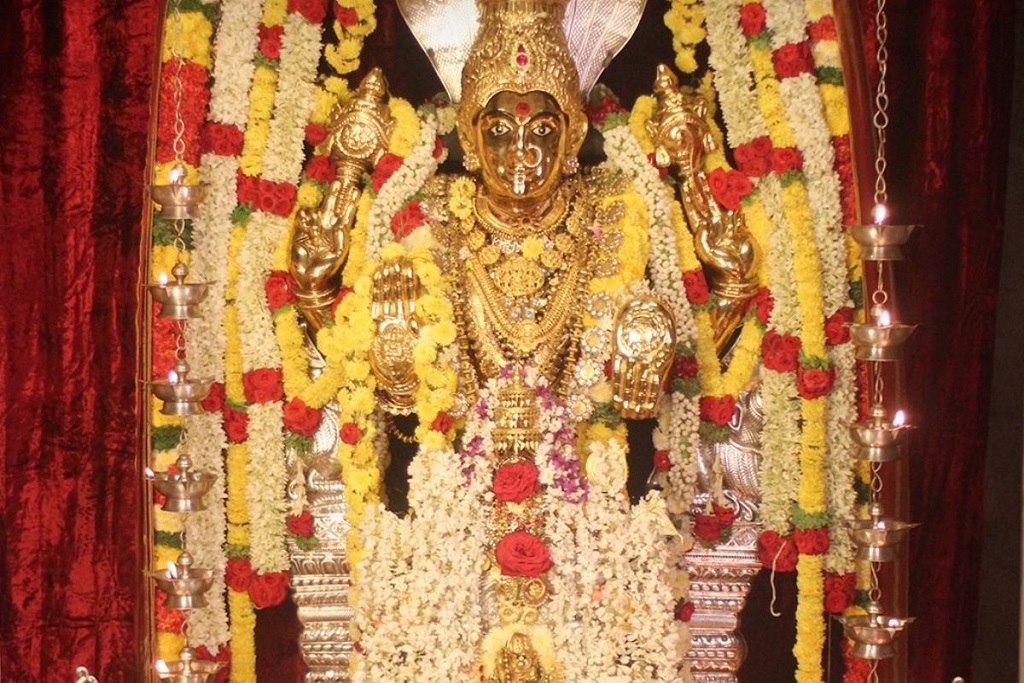 Hornadu- The fascinating legend of the Sri Annapoorneshwari Temple
Hornadu Annapoorneshwari Temple –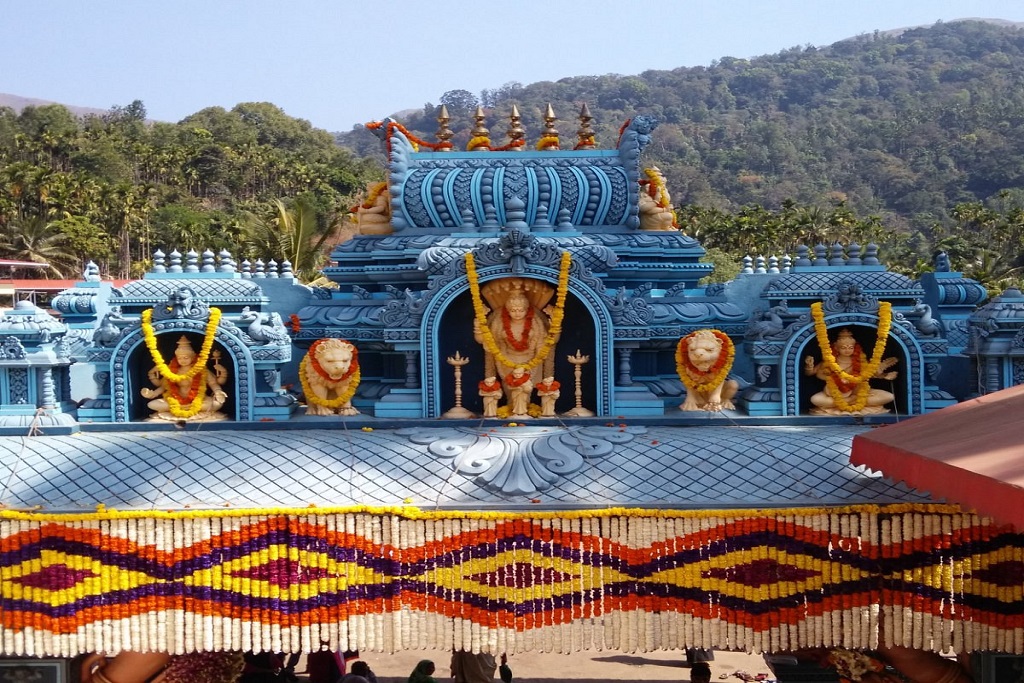 Annapoorneshwari Temple in Hornadu is located on the banks of the River Bhadra in the District of Chikkamagaluru in the State of Karnataka. The temple is situated in the dense forests and Valleys of Western Ghats. Goddess Annapoorneshwari or Annapurna is worshipped here and is also considered the Hindu Goddess of Food and Nutrition. The literal meaning of Annapoorneshwari is "Feeding one and all". Anyone or everyone who visits this temple is offered shelter and food within the temple premises.
Hornadu Annapoorneshwari Temple- Legends & Myths-
The temple is also known by the name- Sri Kshetra Hornadu Temple or Sri Adhishakthyathmaka Annapoorneshwari Temple. It is believed that in the 8th century, Maharishi Agasthya did the prathistapana or the establishment of Goddess Adhishakthyathmaka Sri Annapoorneshwari here. Based on old mythology once upon a time there was an argument held between Lord Shiva and Goddess Parvati. Lord Shiva declared that everything in this world including food was an illusion or Maya. Goddess Parvati did not agree with him and to prove that food was not an illusion she decided to disappear resulting in nature becoming still. As a result of which plants stopped growing, and climates stopped changing, which caused draught in the world. Goddess Parvati felt very pity on seeing this and she reappeared and distributed food to everybody. After this event, she was known to be Goddess Annapoorna.
Another very interesting myth related to this temple is that once upon a time Lord Shiva beheaded Lord Brahma, and his skull got stuck in the hands of Shiva.  Because of this Shiva was cursed that till the skull stuck in the hands of Shiva is not filled with food grains, it will remain stuck in his hands. Shiva went everywhere he could and asked for food grains but the skill could not be full. In the end he went to this temple and asked Mother Annapoorna to help him and fill the skull with food grains which she did and was able to reverse Lord Shiva's curse.
Hornadu Annapoorneshwari Temple- History-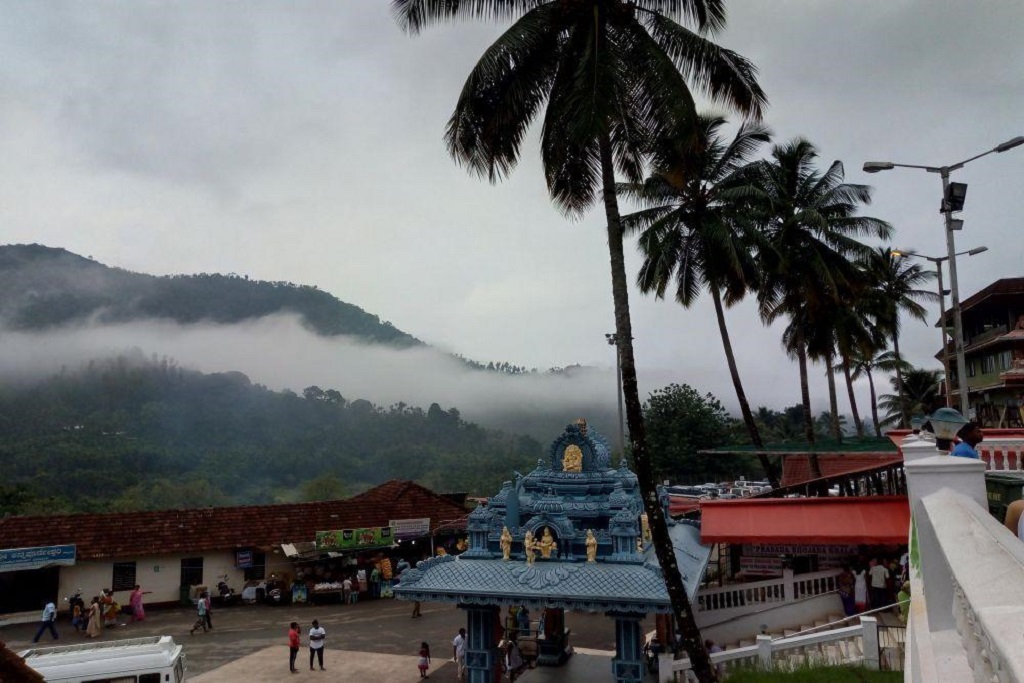 The family of Dharmakartharu started this temple around 400 years ago. It is believed that the same family has been serving and preserving the temple since then.  The family has been able to refurbish the temple and has played a very decisive role in performing various rituals here. It is believed that initially, the premises of the temple was pretty small in size. However, it was the fifth Dharmakartharu, Sri D.B. Vekatasubba Jois who helped in repairing and reviving the temple and followed the principles of Vastu Shilpa, Astrology, and Hindu Mythology. The establishment of Prathistapana of Devi Adishakthi and punaprathistapana of Devi Annapoorneshwari was done in the year 1973 on the very auspicious occasion of Akshaya Tritya.
Hornadu Annapoorneshwari Temple- Deity & Rituals
The word Annapoorna is made up of two words, Anna meaning food grains and Poorna meaning complete or perfect. Hence, it means complete or perfect food. Sri Annapoorneshwari is considered to be the incarnation of Goddess Parvati, wife of Lord Shiva.
Goddess Annapoorna is appraised and lauded in many ancient texts such as Annapoorna Kavach, Rudrayamala, Sivarahasya, and Annapurnamalininaksatramalika. Goddess Annapoorneshwari can be seen completely clad with gold from head to toe. She is seen in the standing position on a peetha, while she is holding Chakra, Shanku, Devi Gayatri, and Sri Chakra in her four hands. An important belief about this temple is that who so ever visits this temple will never be without food in his/her entire life.
The main festival that is celebrated in this temple is Akshay Tritya. It is believed that Sri Annapoornaeshwari was born on this day and it also marks the beginning of the Treta Yug and the end of the winter season and the beginning of the summer season. Not only this but the temple also celebrates nine day long Navrathri festival in September, Rathotsaya in February, Havi, and Deepotsava with immense enthusiasm.
Hornadu Annapoorneshwari Temple- Architecture-
Worshippers climb a flight of steps to reach the main temple complex. The Gopuram of the temple is embellished with several beautiful sculptures of a few Hindu deities. The Mandapam is built on the left-hand side of the main temple entrance. The ceilings of the temple are adorned with very fascinating carvings all around. The Garbhagriha or the sanctum of the temple is surrounded by Adi Sesha, And the Padma Peeta consists of Ashtagaja and Koorma, etc.
How to Reach Hornadu Annapoorneshwari Temple?
By Road-
Hornadu is very well connected to all the major cities in the state of Karnataka. KSRTC buses and even some private buses move around to and from Hornadu and are very easily available.
By Rail-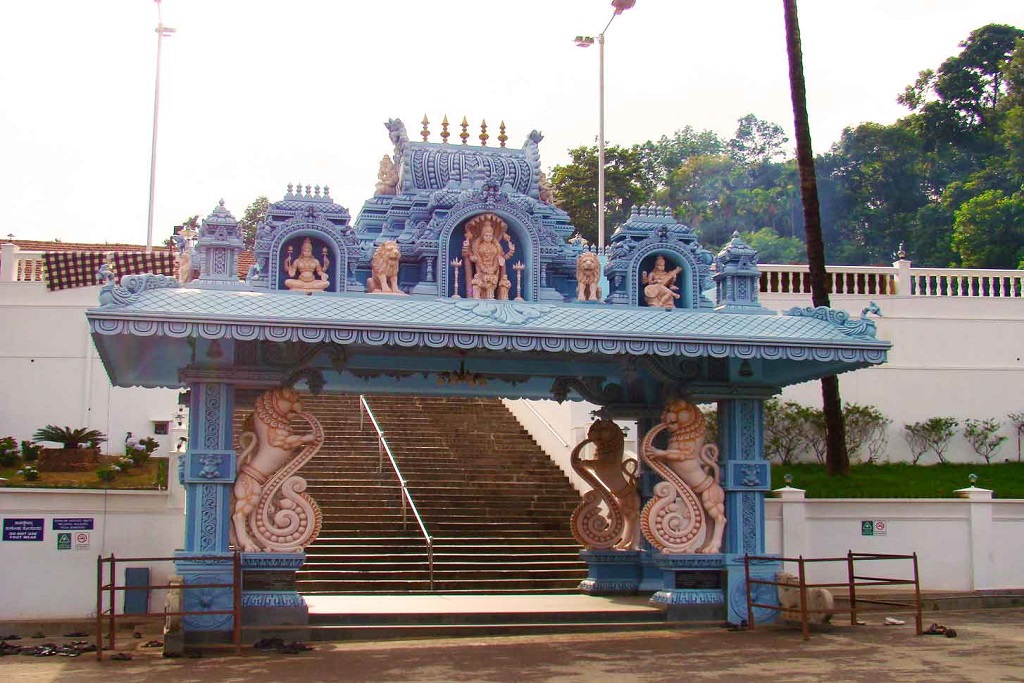 Hornadu does not have any railway station. But the nearest railway station from Hornadu is 55 km away and is situated in Bantawala. Another railway station lies at a distance of 58 km from Horandu and is situated in Kabakaputtur. The total time taken to reach to either of the railway stations is almost the same.
By Air-
The closes airport that lies from Hornadu is almost 66 km away is the Bajpe Airport which lies in Mangalore. It is an international airport and is very well connected to most of the major domestic as well as international cities. Another airport located in Mysore is around 178 km and is known as the Mysore Airport.